×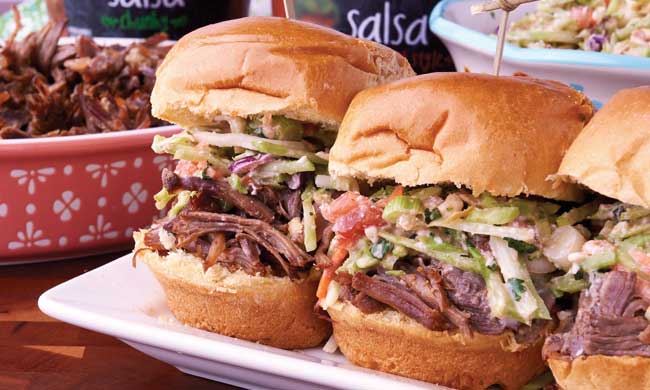 Gathering your team to plan for a truly memorable game day at home starts with almost everyone's favorite part of the festivities: the food. From meaty meals and zesty appetizers to sweet, long-lasting snacks, fuel your crowd with recipes that keep them coming back from kickoff to overtime.
One superstar of the menu at many homegating parties is salsa, whether it's used as a finishing touch in recipes or as a standalone snack to enjoy with chips, veggies or other pairings. In fact, according to the Game Day Eats Report from Fresh Cravings, 22% of guests would insist on running out to pick up salsa if it wasn't available for the feast; 18% would even be devastated and consider leaving.
Chef Anthony Serrano recommends these all-American recipes he makes for his family on game day. Pulled Beef and Slaw Sliders are perfect for piling high with delicious toppings before hitting the couch just in time for kickoff. Snacking throughout the action is a preferred approach for many fans, making Cast-Iron Smoked Queso Dip and Hummus Deviled Eggs go-to options for armchair quarterbacks.
These crowd-pleasers make game day worth celebrating, especially if you use a salsa with high-quality ingredients like vine-ripened tomatoes, crisp vegetables, zesty peppers and spices found in Fresh Cravings Salsas. Their flavor-packed, vibrant recipe offers a homemade-tasting alternative to the softer, duller blends of jarred salsa.
To find more championship-level game day recipe inspiration, visit FreshCravings.com.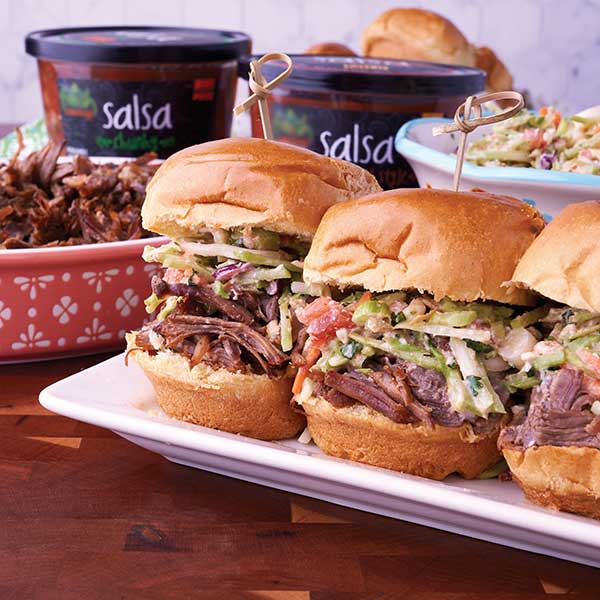 Pulled Beef and Slaw Sliders
Recipe courtesy of chef Anthony Serrano
Pulled Beef:
2 pieces (about 3 pounds each) beef chuck roast
2 tablespoons taco seasoning or barbecue rub
1 cup beef bone broth
16 ounces Fresh Cravings Chunky Mild Salsa
Salsa and Queso Slaw:
16 ounces Fresh Cravings Chunky Mild Salsa
16 ounces broccoli slaw blend
1/4 cup green onions, sliced
1 teaspoon salt
1 cup crumbled queso fresco
1 tablespoon Dijon mustard
1/2 cup mayo
2 tablespoons apple cider vinegar
2 tablespoons cilantro (optional)
slider buns
Fresh Cravings Salsa
barbecue sauce
pickles
jalapenos
sliced cheese
roasted peppers
onions
To make pulled beef: Season both sides of beef with taco seasoning. Wrap with plastic wrap and place in fridge 2-12 hours before cooking.
Place meat, beef bone broth and salsa in pressure cooker; seal according to pressure cooker directions. Cook on high 60 minutes. Once pressure cooker is safe to open according to instructions, open and let meat rest in liquid 15 minutes.
Remove meat from liquid and place in large bowl. Carefully shred meat. Pour liquid, up to half, over meat while shredding to keep it juicy.
To make salsa and queso slaw: In large bowl, mix salsa, slaw blend, green onions, salt, queso fresco, Dijon mustard, mayo, apple cider vinegar and cilantro, if desired. Cover with plastic wrap and refrigerate until needed.
To assemble sliders, place pulled beef and salsa and queso slaw on buns. Top with salsa, barbecue sauce, pickles, jalapenos, sliced cheese, roasted peppers and onions.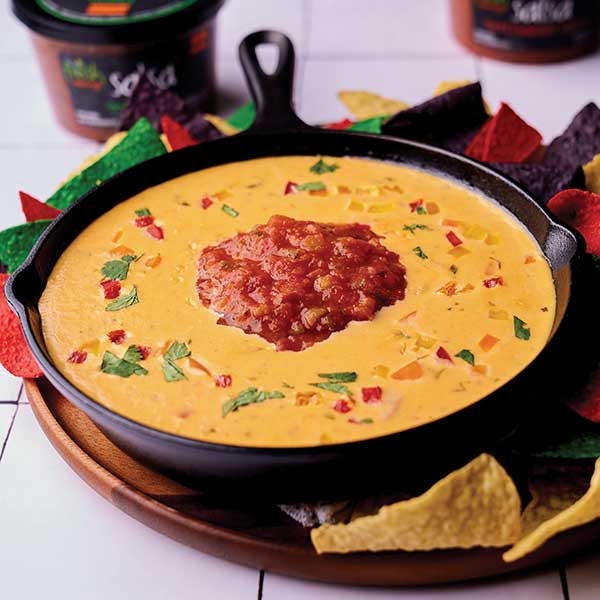 Cast-Iron Smoked Queso Dip
Recipe courtesy of chef Anthony Serrano
2 cups cheddar cheese
1 cup Monterey Jack cheese
1 teaspoon almond flour
1 cup heavy cream
1 cup Fresh Cravings Restaurant Style Salsa
1 teaspoon paprika
1 teaspoon sea salt
1/4 cup cooked chorizo
1 teaspoon liquid smoke
cilantro, for garnish
diced bell pepper, for garnish
In cast-iron pan, mix cheddar cheese, Monterey Jack cheese and almond flour. Pour in heavy cream and salsa; bring to gentle simmer. Whisk while simmering 5-7 minutes, or until queso dip begins to thicken. Add paprika, salt, chorizo and liquid smoke; adjust seasoning as necessary.
Garnish with cilantro and bell pepper.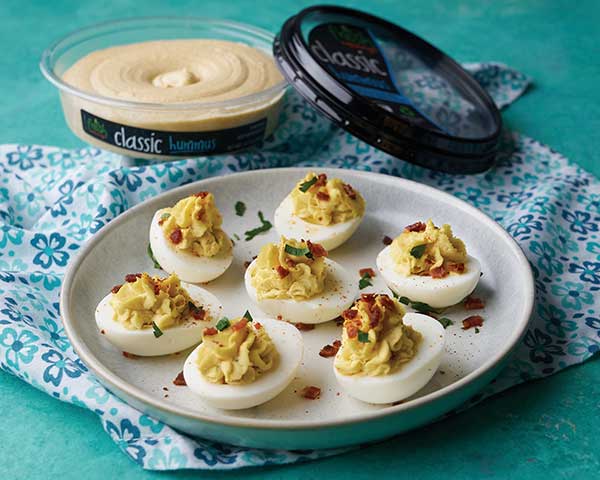 Hummus Deviled Eggs
Recipe courtesy of chef Anthony Serrano
6 hard-boiled eggs, peeled
1/4 cup Fresh Cravings Classic Hummus
1/4 cup smoked cheddar cheese
2 tablespoons bacon, cooked and crumbled
1 teaspoon yellow mustard
1 teaspoon salt
smoked Spanish paprika, for garnish
parsley, for garnish
Cut hard-boiled eggs in half lengthwise. Remove yolks and place in bowl. Using fork, mash yolks into fine crumble.
Add hummus, cheese, bacon, mustard and salt; mix well.
Evenly disperse teaspoons of yolk mixture into egg whites. Sprinkle with any remaining bacon, paprika and parsley.

SOURCE:
Fresh Cravings
A Winning Recipe to Feed Game Day Fans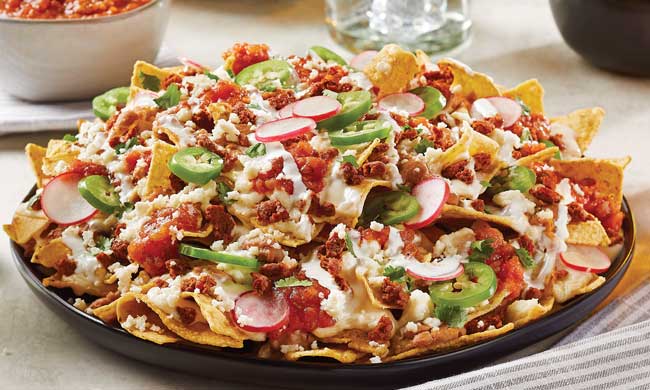 (Family Features) Settling in for an afternoon of gridiron action calls for football food from dips and appetizers to full-blown feasts. Whether you're a diehard fan, casual observer or just there for the game time grub, a full day of "homegating" requires flavorful eats to refuel the crowd.
One of the easiest ways to take your menu from benchwarmer to superstar status is to add foods from one of the country's top authentic Mexican food brands, Cacique, to your playbook. For example, flavor-packed, heaping Cheesy Chorizo Nachos can score a touchdown at your gathering, even among the pickiest of fans. When the game is on the line, call on this dish to keep your team satisfied from kickoff to the final whistle.
Made with crumbly, creamy, pleasantly milky queso fresco; authentic real cheese queso dip that's ready in minutes; robust, spicy pork chorizo; fresh-tasting Crema Mexicana; and small-batch homestyle salsa, this shareable dish can feed a houseful of hungry fans. Ready in less than an hour, it's a perfect solution for pregame baking so it's ready just before the coin toss.
To find more game day recipes, visit
CaciqueInc.com
.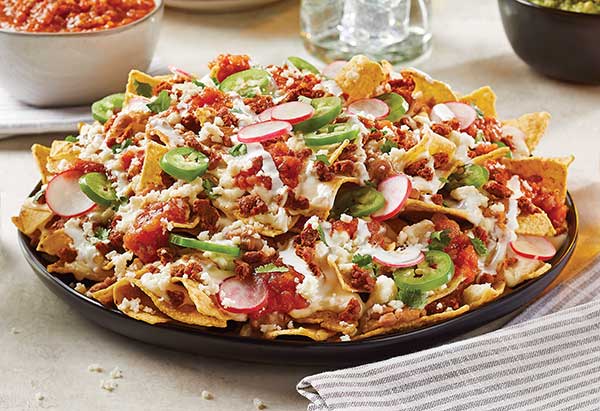 Cheesy Chorizo Nachos
1 package Cacique Pork Chorizo
1 package Cacique Queso Blanco Queso Dip
1 can (15 ounces) refried beans
2 tablespoons water, plus additional, if necessary
1 bag (12 ounces) tortilla chips
1 package Cacique Ranchero Queso Fresco
1/2 cup Cacique Crema Mexicana
1 large jalapeno, sliced thin
2 radishes, sliced thin
fresh cilantro leaves, for garnish
guacamole, for serving
Cacique Mild Homestyle Salsa, for serving
In large nonstick skillet or well-seasoned cast-iron pan over medium-low heat, cook pork chorizo, using spoon to break it up. Stir regularly until completely warmed through and deep brown, scraping crispy bits from bottom of pan.
Microwave queso dip 2-3 minutes until heated through.
In medium bowl, thin refried beans with water. Beans should be thick but nearly pourable; add additional water 1 tablespoon at a time, if necessary.
Heat oven to 350 F.
To assemble nachos, add half the tortilla chips to 13-by-9-inch rectangular baking dish. Use spoon to drizzle half the queso dip and half the refried beans evenly over chips, distributing as evenly as possible. Sprinkle with half the crumbled queso fresco. Repeat with remaining chips, queso dip, beans and crumbled queso fresco. Bake 5-8 minutes until crumbled queso fresco softens and queso dip is creamy.
Remove from oven then drizzle with crema Mexicana and scatter pork chorizo over top. Garnish with sliced jalapenos, radishes and fresh cilantro. Serve with guacamole and salsa.
SOURCE:
Cacique
Rally the Crowd with a Masterful Game Day Menu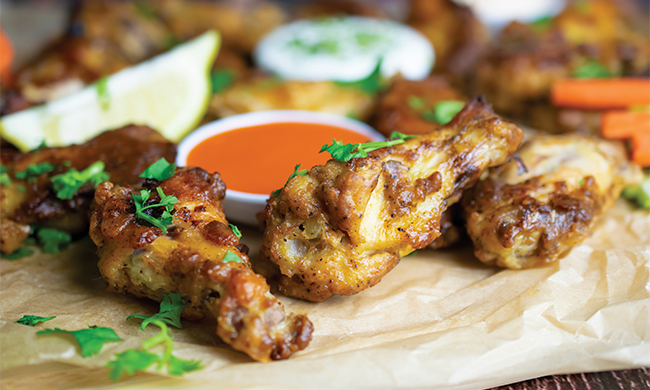 (Family Features) Scoring big on game day requires championship-level meals and snacks that keep the crowd full and ready for action. You can take your tailgate to the house with these baked dishes that help simplify homegating so you can focus on the big screen.
From a salsa-based dip and chicken wings to kick off the party to sweet brownies for celebrating victory, each of these recipes call for less than an hour in the kitchen. Clock management is key to tackling a tailgate spread, making these delicious dishes the perfect play calls on game day.
To find more tailgate and homegate recipe inspiration, visit Culinary.net.
Just Wing It
Skip the silverware at your next homegate and dive right in with a fan favorite that requires just your hands and a heap of napkins: wings.
Whether you pick through your pieces or clean each wing to the bone, these Game Day Chicken Wings are perfect for eaters of all types. A simple flour-based coating keeps the recipe easy to make and baking in the oven means you can skip the messy fryer or firing up the grill.
Cook until crispy then corral your party's favorite dipping sauces from ranch and blue cheese to barbecue and more. Once your spread is served, it's time to sit back and enjoy the game.
Visit Culinary.net to find more touchdown-worthy tailgate recipes.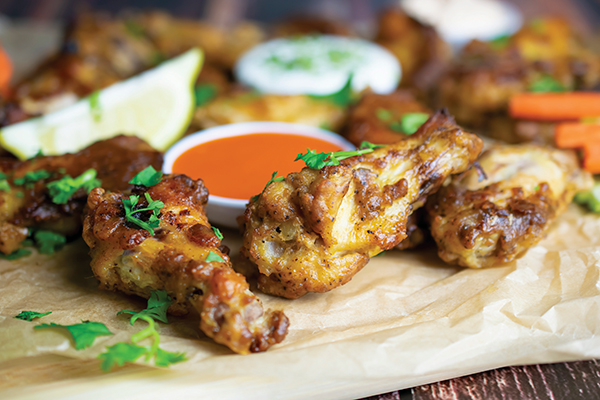 Game Day Chicken Wings
Total time: 50 minutes
Servings: 4
1/2       cup butter, cubed
1/3       cup flour
2          teaspoons paprika
1          teaspoon garlic powder
1          teaspoon salt
1          teaspoon black pepper
10        chicken wingettes, thawed
dipping sauces (optional)
fresh parsley (optional)
Preheat oven to 425 F.
Line baking sheet with foil. Arrange butter cubes on foil.
In medium bowl, combine flour, paprika, garlic powder, salt and pepper.
Coat both sides of wings in flour mixture then evenly space among butter cubes on baking sheet.
Bake wings 30 minutes.
Turn wings over and bake 15 minutes, or until crispy and fully cooked.
Serve with dipping sauces and sprinkle with fresh parsley, if desired.
Score Big with a Salsa-Based Dip
Whether your game day celebrations call for a full-blown parking lot party or homegating with your closest friends, the nibbles and noshes you serve set the stage. Building your menu with crowd-pleasing classics – including one tried-and-true favorite that offers a fresh, veggie-forward taste: chilled salsa – makes your guests cheer for more than just the home team.
Healthy game day snacks are important to almost half (48%) of tailgaters and 18% said they'd consider leaving a party if salsa wasn't served, according to the "Game Day Eats Report" survey from refrigerated salsa brand Fresh Cravings. With its low calorie count packed with high flavor, salsa supports health-conscious goals. Made with ingredients like fresh tomatoes, crisp vegetables, zesty peppers and more, the authentic taste of chilled salsa is a universal favorite among fans.
With a belief that plant-based foods should contain wholesome ingredients and bold flavors worth celebrating, Fresh Cravings refrigerated salsas are available in the produce section, next to dressings and dips, in restaurant-style or chunky mild, medium and hot varieties. Chilled salsa is an affordable and vibrant-tasting alternative to jarred salsa, making it a key ingredient in this Mexican Pizza Dip from celebrity chef George Duran. It's a simple crowd-pleaser you can make in less than an hour, leaving more time for pregame festivities.
Make Snack Time Pop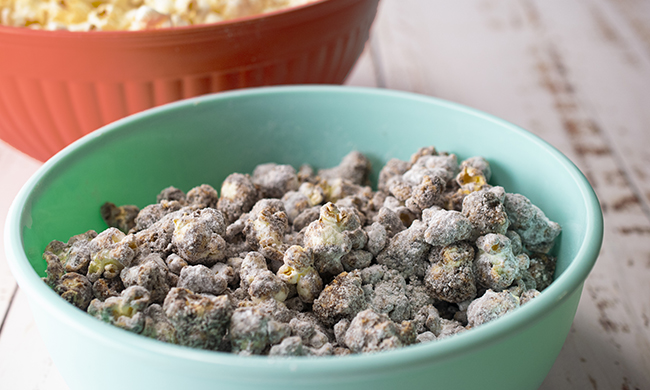 (Family Features) No matter the occasion, nearly every gathering of loved ones is better with snacks.
One opportunity to celebrate this winter, National Popcorn Day on Jan. 19, honors one of America's oldest and most beloved snack foods. Perfect served by itself or as an ingredient in whole-grain creations like Poppy Chow, a twist on a classic kid's favorite made with peanut butter, chocolate and popcorn.
With no artificial additives or preservatives, light and airy popcorn is naturally low in fat and calories, non-GMO and gluten free, making it a sensible option to satisfy cravings for something savory, sweet and just about every flavor in-between. Plus, whole-grain popcorn has energy-producing carbohydrates and fiber, which can help keep you satisfied longer.
Visit Popcorn.org for more tasty snack recipes worth celebrating.
Watch video to see how to make this recipe!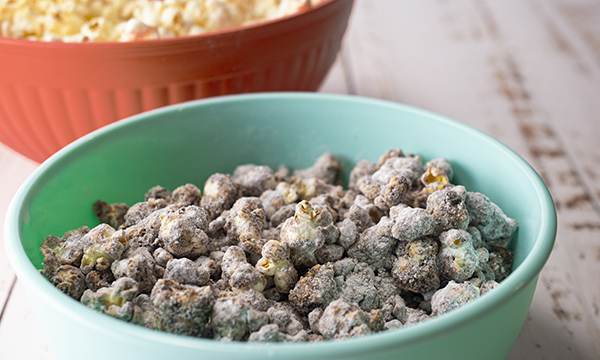 Poppy Chow
Yield: 2 quarts
2          quarts popped popcorn
1/4       cup (1/2 stick) butter or margarine
1/2       cup creamy peanut butter
1          cup milk or semi-sweet chocolate chips
1          cup confectioners' sugar
Place popcorn in large bowl; set aside.
In microwave safe bowl, combine butter, peanut butter and chocolate chips.
Microwave 2 minutes; stir until smooth.
Pour chocolate mixture over popcorn and stir until well coated.
Sprinkle confectioners' sugar over popcorn and stir until coated.
Cool to room temperature before serving.
Store in airtight container, refrigerated, up to 24 hours.

SOURCE:
Popcorn.org
For more information and game day recipe ideas, visit freshcravings.com.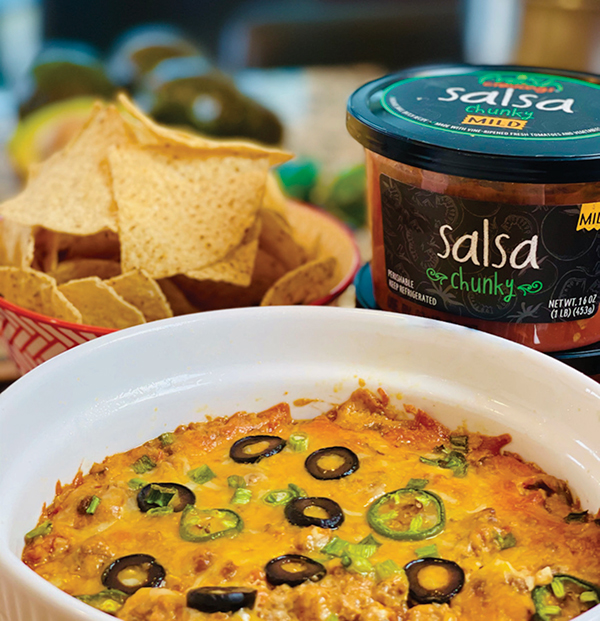 Mexican Pizza Dip
Recipe courtesy of chef George Duran
Servings: 6-8
Nonstick cooking spray
1          tablespoon vegetable oil
1          pound ground beef
1          package taco seasoning mix
8          ounces cream cheese, at room temperature
1/2       cup sour cream
1          cup Fresh Cravings Chunky Salsa, plus additional for topping
1          cup grated mozzarella
1/2       cup blended Mexican cheese
sliced jalapeno (optional)
sliced black olives (optional)
green onions (optional)
tortilla chips
Preheat oven to 350 F.
Spray 8-by-8-inch glass pan or large souffle dish with nonstick cooking spray; set aside.
In large saute pan, heat oil over medium-high heat and add ground beef, breaking up with flat wooden spatula, until fully cooked. Sprinkle taco seasoning throughout beef and combine.
Place warm beef mixture in large bowl and add cream cheese, sour cream, 1 cup salsa and mozzarella. Mix well until combined and pour into prepared pan. Top with blended cheese and sliced jalapeno, black olives and green onions, if desired.
Bake until fully warmed and cheese is melted, 30-35 minutes.
Top with small spoonfuls of salsa. Serve with tortilla chips.
Cap Off Game Day with an All-Star Combo
Pregame festivities call for salty snacks and meaty morsels, but halftime eating and postgame celebrations are perfect for sweet treats.
You can sweeten up your tailgate or homegate with a shareable option like Marbled Peanut Butter Chocolate Brownies made with Domino Golden Sugar, which is made from pure cane sugar and dissolves and measures cup for cup just like white granulated sugar without compromising performance or taste. Featuring an undefeated combination of peanut butter and chocolate, this dessert is ideal for baking a day ahead so you can manage the clock on game day.
Find more tailgating sweets at dominosugar.com.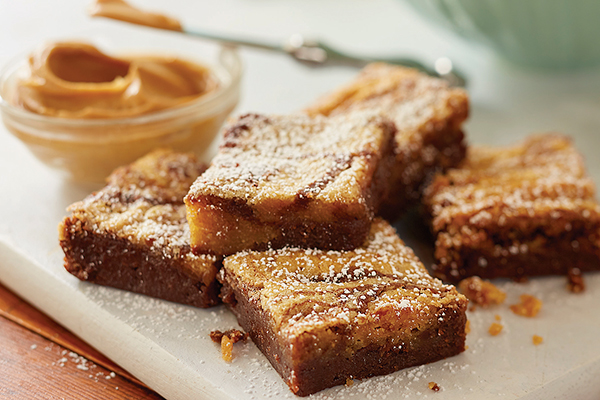 Marbled Peanut Butter Chocolate Brownies
Prep time: 25 minutes
Cook time: 20 minutes
Yield: 24 brownies
Chocolate Brownies:
1/2       cup (1/4 pound) butter
2          ounces unsweetened chocolate, chopped
1          cup Domino Golden Sugar
1/2       teaspoon vanilla extract
2          eggs
1/2       cup all-purpose flour
Peanut Butter Marble:
1/4       cup natural (no added sugar) peanut butter
4          tablespoons butter, softened
1/2       cup Domino Golden Sugar
1          egg
1/4       teaspoon vanilla extract
1/4       cup all-purpose flour
1/4       teaspoon baking powder
powdered sugar, for topping (optional)
Heat oven to 350 F.
To make chocolate brownies: In medium saucepot over low heat, melt butter and chocolate. Remove pot from heat; stir in sugar and vanilla until blended.
In small mixing bowl, whisk eggs until frothy then stir into chocolate mixture.
Sift flour into batter and stir just until smooth. Pour batter into prepared pan, smoothing to edges.
To make peanut butter marble: In mixing bowl, cream peanut butter, butter and sugar. Add egg and vanilla; beat just until blended. In separate bowl, sift or whisk flour and baking powder then stir into batter just until combined.
Carefully spread peanut butter marble over chocolate batter. Use knife to swirl batters together, first horizontally then diagonally.
Bake 20 minutes, or until toothpick inserted in center comes out almost clean. Cool completely on wire rack before cutting. Top with powdered sugar, if desired, before serving.
SOURCE:
Fresh Cravings
Domino Sugar