Celebrate Veganuary by Trying (Mostly) Plant-based Meals!
A new year brings new opportunities for personal changes and improvement from taking steps forward in a career to bettering personal relationships and - perhaps most common - starting on a path toward better health. For many, the worthwhile challenge of enhancing physical health begins with the foods and beverages you eat and drink.
Step one is to leave behind the habit of turning to unhealthy meals and instead focus on dishes that call for fresh fruits and veggies like this Quinoa Salad with Orange Cilantro Salad Dressing. Simply start with cooked quinoa and mix together with your preferred produce like orange slices, grapefruit and diced avocado.
Making nutritious choices goes beyond just your meals, however. Take your commitment to the next level with beverages that don't cancel out your effort to eat healthy. This Spiced Citrus Ginger Mocktail combines a concentrate made of orange juice, orange peel, lime juice and lime peel with zero-sugar, zero-calorie ginger ale.
These health-conscious recipes are made possible with the flavor enhancement of Zevia beverages, which are naturally sweetened with stevia and include no artificial ingredients, colors or preservatives. Ranging from sodas to organic teas, energy drinks, sparkling water and mixers for cocktails and mocktails, the zero-sugar beverages fit nearly any lifestyle including eating patterns like paleo, keto, intermittent fasting and gluten-free.
Visit zevia.com/recipes to find more nutritious food and drink solutions.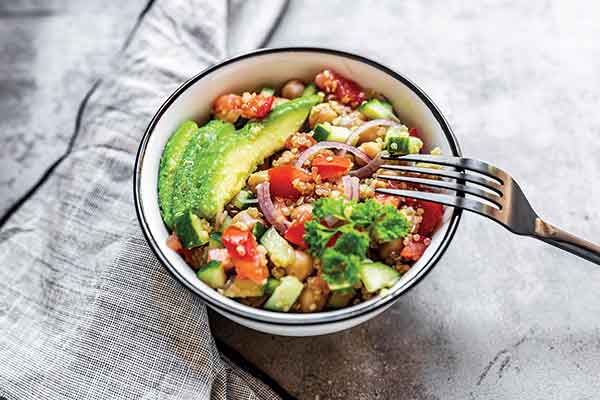 Quinoa Salad with Orange Cilantro Salad Dressing
Yield: 2 cups
Dressing:
1/2 cup Zevia Orange Soda
1/4 cup lime juice
1/2 cup olive oil
1 cup fresh cilantro
1/2 avocado
1 teaspoon garlic
Quinoa Salad:
1 cup quinoa
leafy greens (optional)
1 orange, cut into pieces (optional)
1 grapefruit, cut into pieces (optional)
1 lime, juice only
1/2 avocado, diced (optional)
1/4 cup feta cheese (optional)
1/4 cup diced red onion (optional)
To make dressing: In food processor, pulse orange soda, lime juice, olive oil, cilantro, avocado and garlic until consistency is smooth.
To make quinoa salad: Cook quinoa according to package directions and let cool.
Once quinoa is cool, add to bowl with orange pieces, if desired; grapefruit pieces, if desired; lime juice; avocado, if desired; feta cheese, if desired; and diced onion, if desired. Top with orange cilantro salad dressing.
Turn to Tempeh for a Plant-Based Superfood
As a key part of a nutritious eating plan, protein intake can be a healthy step to take in the new year. One increasingly popular way to add protein to your at-home menu is with protein-packed, plant-based foods like tempeh.
Tempeh's roots date back thousands of years and originate in Indonesia. It's an all-natural protein source made with simple, whole-food ingredients – most often fermented soybeans, water and rice – and is high in protein, packed with fiber and low in fat, sodium and calories. Tempeh is also loaded with vitamins and minerals like calcium, manganese, phosphorus and iron, and has all nine essential amino acids. Because it's fermented, the nutrients in tempeh are easy for the body to digest.
The health benefits of tempeh, including 18 grams of protein per serving, are one reason to give it a try, but another is it's easy and versatile to cook. It has a firm texture, nutty taste and can be baked, fried, steamed or grilled. Tempeh also easily absorbs marinades, spices and sauces. To prepare tempeh, cut it into cubes, strips or crumble it then toss into a stir-fry, layer it onto a BLT sandwich or simply warm a skillet and sear it until golden brown.
The possibilities for tempeh are nearly endless, and it's also increasingly easy to find. For example, Lightlife, founded in 1979 as "Tempeh Works," was among the first commercial producers of tempeh in the United States. Today, it offers its Original Tempeh at more than 18,500 retail stores nationwide.
Find protein-packed meal ideas, like Sesame Ginger Tempeh Power Bowls with Quinoa and Sweet Potatoes, at lightlife.com.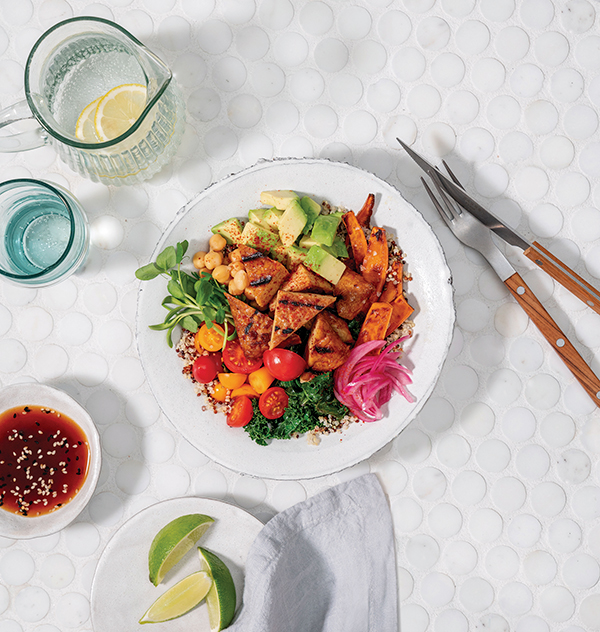 Sesame Ginger Tempeh Power Bowls with Quinoa and Sweet Potatoes
Pickled Pink Onions:
1/4 cup white wine vinegar
2 teaspoons white sugar
1/4 teaspoon salt
1/2 small red onion, peeled and thinly sliced

Sesame Ginger Vinaigrette:
2 tablespoons vegetable oil
2 teaspoons sesame oil
2 teaspoons grated fresh ginger
2 teaspoons rice wine vinegar
2 teaspoons soy sauce
2 teaspoons toasted sesame seeds

Sweet Potatoes:
1 tablespoon olive oil
1 large sweet potato, peeled and cut into 1/2-inch slices
Tempeh:
1 package (8 ounces) Lightlife Original Tempeh
1 teaspoon vegetable oil
2 tablespoons soy sauce
2 cups baby spinach or kale
2 cups cooked tri-color quinoa, at room temperature
1/2 ripe avocado, cubed
1/2 cup canned chickpeas, rinsed and drained
6 red grape cherry tomatoes, halved
6 yellow grape cherry tomatoes, halved
1/2 cup pea shoots
To make pickled pink onions: In small pot, bring white wine vinegar, sugar and salt to boil. Add onions and toss to coat 15 seconds. Turn off heat and let sit 20 minutes, stirring occasionally, until onions are soft and bright pink. Set aside.
To make sesame ginger vinaigrette: In small bowl, stir vegetable and sesame oils with ginger, rice wine vinegar, soy sauce and sesame seeds. Pour into two small ramekins. Set aside.
To make sweet potatoes: In large nonstick skillet over medium heat, heat olive oil. Add sweet potato slices and cook, turning occasionally, 15-17 minutes, adjusting heat as necessary until tender when pierced with knife. Remove to cutting board and cut each slice into quarters. Wipe out skillet.
To make tempeh: Cut tempeh crosswise into eight triangles. In nonstick skillet over medium-low heat, heat vegetable oil. Cook tempeh with soy sauce until golden brown and warm, 2-3 minutes per side. Remove tempeh from pan and add baby spinach or kale; stir 1-2 minutes just until wilted.
To assemble bowls: On bottoms of two shallow bowls or plates, spread cooked quinoa. Top with piles of warm sweet potatoes, pickled pink onions, sauteed spinach or kale, avocado, chickpeas, grape tomatoes and pea shoots. Top with tempeh and serve with sesame ginger vinaigrette.

SOURCE:
Lightlife
Power Family Meals with Protein-Packed Peanuts
Starting fresh with a new year is a chance to hit the reset button for many people, and your family can use this opportunity to rethink homemade meals while striving for nutritious (and still delicious) dishes. From snacks to the main course each evening, the options are nearly endless for planning a revamped menu with healthier ingredients.
These recipes from the Georgia Peanut Commission are powered by peanuts, a nutrient-rich superfood that delivers 19 vitamins and 7 grams of protein per serving for a health benefit punch in each bite.
Discover more nutritious recipe ideas at gapeanuts.com.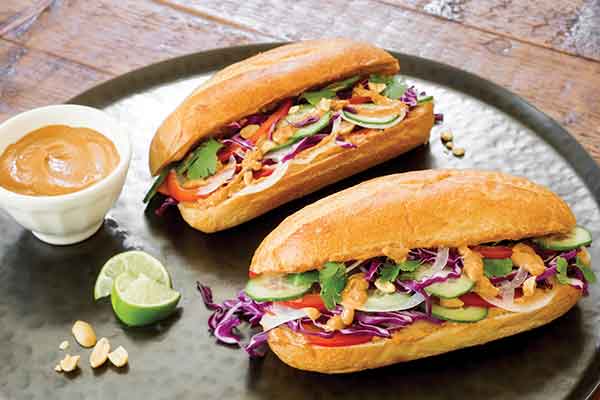 Veggie Sammies with Peanut Butter Satay Sauce
Prep time: 30 minutes
Servings: 2
4 tablespoons creamy peanut butter
3 tablespoons lime juice
2 tablespoons water
4 teaspoons hoisin sauce
2 teaspoons soy sauce
2 teaspoons sriracha
2 French baguette rolls (6 inches each)
1/2 cup cucumber, sliced
1/2 cup white onion, sliced into thin strips
1/2 cup red bell pepper, sliced into thin strips
1/2 cup purple cabbage
1/2 cup fresh cilantro
In small bowl, combine peanut butter, lime juice, water, hoisin sauce, soy sauce and sriracha; mix well.
Spread sauce on both sides of each roll then layer with cucumber, onion and bell pepper. Top with cabbage and cilantro.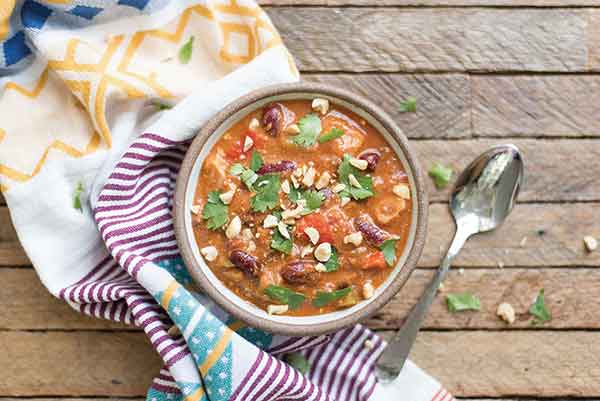 Very Vegan Peanut Butter Jackfruit Chili
Recipe courtesy of the National Peanut Board
Prep time: 5 minutes
Cook time: 35 minutes
Servings: 8
2 teaspoons oil
1/2 large white onion, chopped
1/2 green bell pepper, chopped
1/2 red bell pepper, chopped
2 garlic cloves, chopped
1/2 teaspoon salt
1 teaspoon cumin
1 teaspoon chili powder
1 tablespoon tomato paste
1 can crushed tomatoes
1 can whole tomatoes
2 cups water
1 can red kidney beans, drained and rinsed
1 can green jackfruit, drained and chopped
1/4 cup peanut butter
cornbread (optional)
tortilla chips (optional)
cinnamon rolls (optional)
eat large, heavy-bottomed pot over medium heat. Add oil, onion and peppers; cook 3 minutes, stirring often. Add garlic, salt, cumin, chili powder and tomato paste, stirring to coat. Cook 1-2 minutes, stirring constantly, then stir in crushed tomatoes, whole tomatoes, water, kidney beans and jackfruit; bring to boil then reduce heat to medium-low. Simmer 25-30 minutes. Stir in peanut butter and simmer 5 minutes.
Serve with cornbread, tortilla chips or cinnamon rolls, if desired.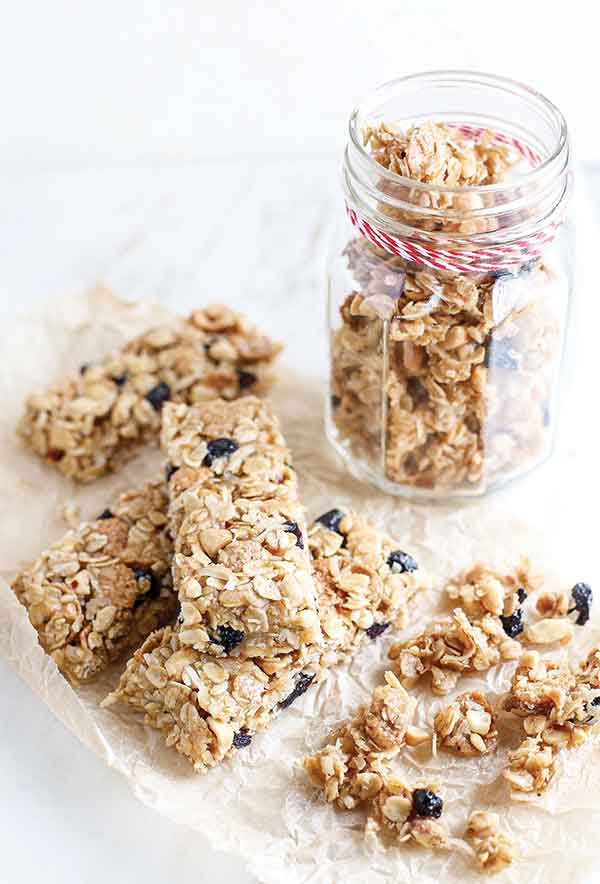 Peanut Granola Bars
Prep time: 10 minutes
Cook time: 6 minutes, plus 30-45 minutes cooling time
Servings: 12-14
1/2 cup honey
6 tablespoons unsalted butter
2 tablespoons creamy peanut butter
1/2 cup light brown sugar, firmly packed
1 teaspoon vanilla
1/4 teaspoon salt
2 cups rolled oats (quick or regular)
1 cup bran flakes
1 cup sweetened coconut flakes
1 cup dried fruit (raisins, blueberries or cranberries)
1 cup roasted peanuts, chopped
In large, shallow, microwavable dish, combine honey, butter, peanut butter, brown sugar, vanilla and salt. Microwave at 50% power 2 minutes then whisk to combine and microwave at 50% power 2 minutes.
Add oats, bran flakes, coconut flakes, dried fruit and peanuts; stir to combine. Microwave on high 1 minute. Stir and microwave 30 seconds.
Press mixture into 13-by-9-inch baking dish lined with parchment or wax paper with some extra hanging over edges to easily lift bars out. Use bottom of glass wrapped with plastic wrap to press granola mixture firmly into pan. Allow to cool completely 30-45 minutes. Cut into 12-14 bars.